CP Aviation - Instructor Bios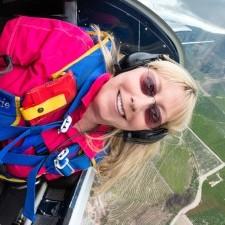 Judy Phelps
DPE, Master CFI-Aerobatic, CFI, CFII, Gold Seal AGI
Judy Phelps, Designated Pilot Examiner, Master Certified Flight Instructor-Aerobatic, CFI – Instrument, specializing in Tailwheel, Spins, Emergency Maneuver Training and Aerobatics.
Judy is our Chief Flight Instructor and a Gold Seal Advanced Ground Instructor. Her focus is on monitoring the high quality of instruction provided to our private, instrument and commercial students by conducting phase checks; as well as teaching Emergency Maneuver Training and Aerobatics.
She is the 2011 National Flight Instructor of the Year, the 2010 Western Pacific Region FAA Flight Instructor of the year, the 2008 Professional Woman Pilot of the Year by the Southwest Section of the Ninety-Nines International Organization of Women Pilots, and the 2006 Woman Pilot of the Year by the Ventura County Chapter of the Ninety-Nines. She is also a charter member of the Society of Aviation and Flight Educators (SAFE). Judy's career in aviation started in 1994 when she met and married Clay Phelps, the CP of CP Aviation. In 2003 she became a Certified Flight Instructor (CFI) and has logged over 11,000 hours.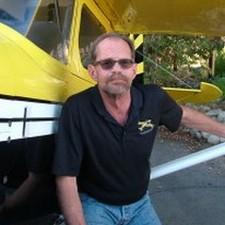 Mark R King
Master CFI-Aerobatic, CFI, CFII, Gold Seal AGI
Mark King, Master Certified Flight Instructor with a Gold Seal-Aerobatic, CFI- Instrument, Advanced and Instrument ground instructor, is a southern California native who was born into an aviation family and began flying in 1974. Mark has extensive experience flying in Alaska in a turboprop Quest Kodiak, has over 1000 hours flying the Beechcraft Bonanza and is G1000 qualified.
He is a member of the Society of Aviation Flight Educators (SAFE) and the North American T6 formation group called the Condor Squadron. He teaches Private Pilots, Instrument, Commercial, Tailwheel, Emergency Maneuver Training, and Aerobatics.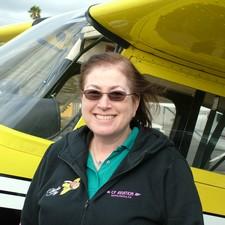 Rochelle Oslick
Master CFI-Aerobatic, CFI
Rochelle Oslick, Master Certificated Flight Instructor-Aerobatic, CFI, began flying in 1984, at the Edwards AFB Flying Club, while she was stationed there as a USAF Flight Test Engineer. Shortly after earning her private pilot license, Rochelle started flying tailwheel/aerobatic airplanes at Santa Paula Airport, which quickly became her favorite airport. As an aerospace engineer, several job changes, from the USAF, to Lockheed in Burbank, to Douglas Aircraft Company in Long Beach, and finally to The Boeing Company in Seattle, led her to base her flying from other airports in southern California and in western Washington. Along the way, Rochelle earned her Instrument and Commercial ratings, and then CFI, and started flight instructing part-time, specializing in tailwheel and aerobatic airplanes, in the Seattle area. After retiring from Boeing, Rochelle moved back south, to Ventura County, and is flight instructing at CP Aviation, at her favorite airport, teaching Private Pilots, Tailwheel, Spins, Emergency Maneuver Training, and Aerobatics. She is a member of SAFE, IAC, Ninety-nines International Organization of Women Pilots, Women in Aviation International, and AOPA.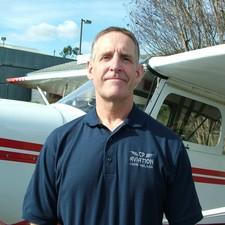 Bryan Hudson
ATP, CFI, CFII, MEI
Bryan Hudson - ATP, CFII, MEII, Tailwheel - is a lifelong aviation enthusiast. He started flying in hang gliders as a teenager then moved up to the "heavy" Cessna 152 when he earned his private pilot certificate in 1987. Bryan began flying professionally in 1990, primarily working in scheduled air cargo operations all across the country where he accumulated many hours of night, multiengine, turboprop, and instrument experience, and his Airline Transport Pilot certificate. In 2004 he began working in the emerging unmanned aircraft industry as evaluation pilot, instructor, and systems engineer. Bryan has been a CFI with single and multiengine instrument instructor ratings since 1991 and is a member of the Society of Aviation and Flight Educators (SAFE). Bryan is available mainly on weekends and some evenings when the days are long.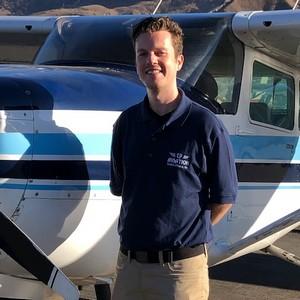 Luke Moran
CFI
Luke is a first generation pilot who first developed a passion for flying when he was ten years old. After flying a glider on his 16th birthday Luke has done everything he could to be in and around airplanes. Luke earned most of his ratings at CP Aviation and added a Commercial Multi-Engine rating in Camarillo. Now a Certified Flight Instructor Luke is eager to share his passion and knowledge of flight with anyone interested in learning. When not at the airport Luke can be found working on his 1993 Mazda Miata or playing his drums. Luke is available most days to teach Private and Commercial students.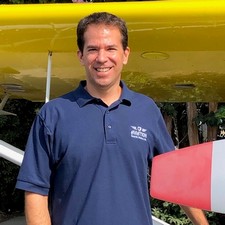 Dana Files
CFI
Dana was first introduced to flying by his grandfather who owned a plane at the Watsonville, CA airport. When Dana was young he can recall flying with his grandfather in his Piper Comanche, and then later in his Cessna 152. It wasn't until high school that Dana became seriously interested in aviation when he took several commercial flights on United 757/747 from San Francisco to Buenos Aires via Miami. He listened to the air traffic control channel the entire way. He was riveted by the speed and power and how quickly you can move across the globe in an airplane, and how cool the pilots and air traffic control sounded on the radio. Dana went off to college at Sonoma State University, graduated in 2003, and accepted a job as a geologist in Camarillo for a local consulting firm (to this day, he still works for the same consulting firm on a part time basis). At the same time, he started flight training at the Camarillo airport and quickly earned his private pilot license. From 2003 through present, he flew for fun and adventure, slowly accumulating new certificates and ratings including his instrument rating in 2008, commercial certificate in 2019, and flight instructor certificate in 2021.
Dana is available nearly every day for flight instruction toward private and commercial certificates, flight reviews, and flight instruction in complex/high performance airplanes.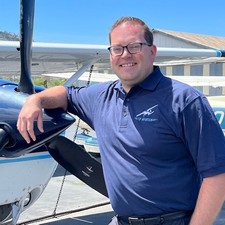 Brannon McCain
CFI, CFII, MEI
Brannon is a Certified Flight Instructor, CFI-Instrument, and CFI-Multiengine. When Brannon took his first intro flight at Camarillo airport in 2019, he had zero experience with aviation. From that first flight he immediately fell in love with it and in less than a year had earned all his flight certificates and instructor add-ons. He's been an active instructor ever since, and has found his passion. Seeing a student progress from not knowing anything about the airplane to doing their first solo to earning their first certificate; there's just nothing that feels better. He'll be with you the whole way, pushing you to be your best self and supporting you in your aviation goals. Brannon is available for instruction all day, Saturday-Thursday, for Private, Commercial, Instrument, or High Performance training.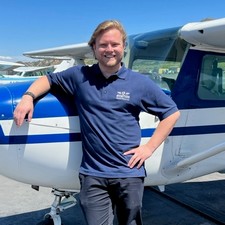 Dillon Francis
CFI, CFII, MEI
Dillon Francis is a first-generation pilot, who started flying right here at CP Aviation before his 16th birthday. A local of Ventura, he has watched the skies since he was very young, and thrilled at the thought of one day joining the ranks of aviators that flew overhead. He recently completed his goal of earning his Flight Instructor Certificate, along with CFI-Instrument, and Multi-Engine instructor, and now thrills at being able to bring the joy of flight to many more! An avid actor, educator, stage manager, electrician, and backpacker, he is always looking forward to the next adventure. He is available to teach all day, for Private, Instrument, and Commercial certificates. He hopes you'll enjoy flying with Air France…is!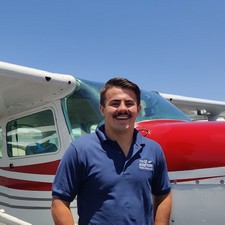 David Martoff
CFI
David is a first generation pilot and has flown out of Santa Paula since he was 14 years old. He came to CP to see what aviation was all about when he was just 12 years old. He was told to come back two years later to start lessons. When he turned 14 he came back and Judy Phelps was his instructor. David soloed on his 16th birthday then received his private pilot's certificate on his 17th birthday. He next earned his instrument, commercial and CFI ratings. David also took our EMT course. David fell in love with flying and looks forward to a career with the airlines. When David is not flying he's either working on cars or coaching wrestling. David is available to teach on weekends and during some weekdays.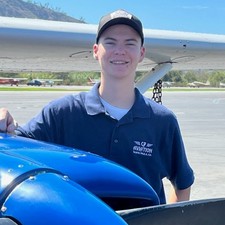 Tanner Gee
CFI, CFII
Tanner is a first generation pilot who found aviation through Microsoft Flight Simulator. After taking the controls on his first intro flight at Camarillo, he immediately knew there is nothing better than flying. In less than a year he earned all flight certificates and instructor add-ons. He loves helping others into aviation and seeing that smile as they lift off the ground for the first time. During his free time he loves dirt bike riding, rock climbing, and playing sports.
He is available to teach all day for Private, Instrument, and Commercial certificates.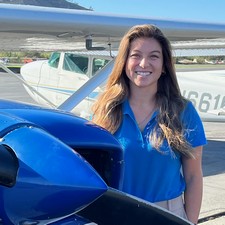 Kai Uyesaka
CFI, CFII, MEI
As a first generation pilot, Kai thought flying was as far out as becoming an astronaut—then she took her first intro flight. Within less than a year she earned all her ratings and instructor add-ons purely because she loves the world she stumbled into and wants to continue to learn more. Coming from a family of coaches and teachers she knows there's no greater aspiration than sharing knowledge. When she's not at the airport she's enjoying the beaches and backcountry of Goleta with her trusty husky.
Kai is available for Private, Instrument, and Commercial.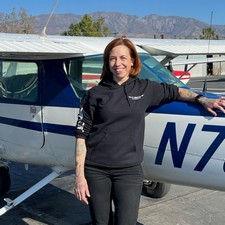 Stephanie Robinson
CFI
Stephanie Robinson is a first generation pilot who took her first flight lesson at age 12, only to pick up flight training again at long last at age 39, fulfilling a lifelong dream! She has completed all of her training at CP Aviation, mentored by Judy Phelps, with the goal of becoming a lifelong flight instructor. Her background is in academia; she holds a PhD from the University of California, San Diego (2005), and taught at the college/university level for over 18 years (UC San Diego, San Diego City College, Smith College, Amherst College). Flight instruction has turned out to be the perfect combination of her two greatest loves - education and aviation.
Stephanie is an active member of the Ventura County 99s, currently serving on the board as Vice-Chair. She is also the proud owner of a 1946 Luscombe 8E, which she flies regularly at Santa Paula Airport.
She is available for Private or Commercial instruction every Sunday through Wednesday.