CP Aviation - Instructor Bios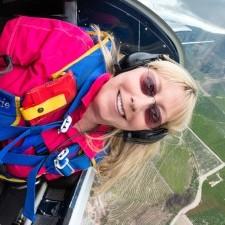 Judy Phelps
Judy Phelps, Master Certified Flight Instructor-Aerobatic, CFI – Instrument, specializing in Tailwheel, Spins, Emergency Maneuver Training and Aerobatics.
Judy is the 2011 National Flight Instructor of the Year, the 2010 Western Pacific Region FAA Flight Instructor of the year, the 2008 Professional Woman Pilot of the Year by the Southwest Section of the Ninety-Nines International Organization of Women Pilots, and the 2006 Woman Pilot of the Year by the Ventura County Chapter of the Ninety-Nines. She is a charter member of the Society of Aviation and Flight Educators (SAFE). Judy's career in aviation started in 1994 when she met and married Clay Phelps, the CP of CP Aviation. In 2003 she became a Certified Flight Instructor (CFI) and has logged over 8,000 hours.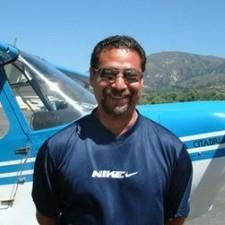 Dennis Magdaleno
CFI-Instrument, MEI, DPE
Dennis is our Chief Flight Instructor, and an FAA Designated Pilot Examiner with over 11,000 of flight time. He has been flying since 1976 and has been at CP Aviation since 2001.
Because Dennis is a DPE, he manages his own schedule. Anyone wishing to fly with him should contact him directly at 805-890-1268.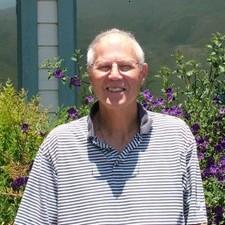 Berkeley Brandt
Berkeley Brandt, CFII, comes from a family of pilots (mother, father, uncles) and began flying in 1963. After another career as a cardiac surgeon, he has become obsessed with flying after retirement in 2004 and began teaching at CP Aviation in 2010. It turns out that there are many similarities between teaching heart surgery and flying.
His main focus has been primary flight training, but he enjoys instrument training as well. He is a member of the Society of Aviation and Flight Educators (SAFE).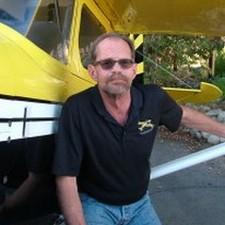 Mark R King
Mark King, Certified Flight Instructor (CFI), Advanced and Instrument ground instructor, is a southern California native who was born into an aviation family and began flying in 1974. Mark has extensive experience flying in Alaska in a turboprop Quest Kodiak, has over 1000 hours flying the Beechcraft Bonanza and is G1000 qualified.
He is a member of the Society of Aviation Flight Educators (SAFE) and the North American T6 formation group called the Condor Squadron. He teaches Private Pilots, Instrument, Commercial, Tailwheel, Emergency Maneuver Training, and Aerobatics.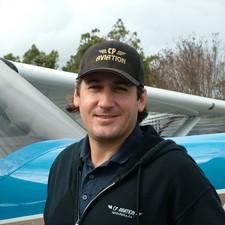 John Gentzle
John Gentzle CFI, CFII, has been a life long aviation enthusiast and after his first lesson, fell in love with the art and science of flying. He earned his Private Pilot, Instrument, Commercial, CFI, and CFII Certificates in just over a year and a half, all at CP Aviation.
He is a member of the National Association of Flight Instructors (NAFI), the Cessna Pilots Association, and the Aircraft Owners and Pilots Association (AOPA). He teaches Primary, Instrument, and Commercial students.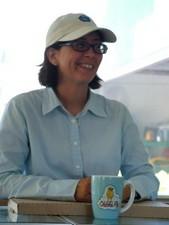 Marybeth Martin
Marybeth Martin is a Certified Flight Instructor and an Advanced Ground Instructor. After years as an Accountant, Marybeth decided to follow her passion for Aviation and has done almost all of her ratings here at CP Aviation. She is a member of the Ninety-nines International Organization of Women Pilots, Angel Flight, EAA, AOPA, and Women in Aviation.
When not flying, Marybeth can be found hanging out with her dog Scooby. She teaches Primary and Commercial.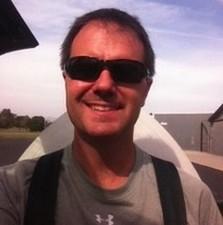 Chad Gustafson
Chad is a Certified Flight Instructor from the Pacific Northwest. He flew general and corporate aircraft out of Port Angeles, WA. Which included- Aeronca Champ on floats, Aeronca Sedan, Avid Flyer on floats, Vans RV7, RV6, Christen Eagle II, Cessna 150, 172, 182, 206T, 310, Citabria Decathalon, Beachcraft V tail, Baron 55, King Air C90, Diamond Twin Star DA42, Embraer Brasilia EMB-120. Avionics- Garmin 400 series, Garmin touch screen series 650-750, G1000, Apollo GNS480, MX20
Chad started flying as a convenient way to travel to water ski tournaments in the Pacific Northwest. The next step was a 1955 Champ on straight floats. An IFR rating and a Baron 55 for the overcast days led to a King Air C90 for work. Naturally when the fuel bill arrived, a Vans RV7 soon followed, which led to a Christen Eagle II. His next plan was to teach his two teenage daughters to fly, so the CFI check ride was checked off. Two unforeseen challenges lay ahead. First, his oldest daughter informed him that she and her sister were not going to learn to be pilots. As she put it, "Dad, you can just fly us wherever we want to go, way easier, ok?" (apparently Dads can't see the forest for the trees on occasion). Secondly, Chad way underestimated the teaching of said daughters to drive a car! Yes, they are all still friends, however, Chad learned that flight lessons are best left to people that want to learn to be pilots, so if your interested in going for your first flight, a flight review or transitioning to tailwheel, Chad is likely to be hanging out at Santa Paula airport.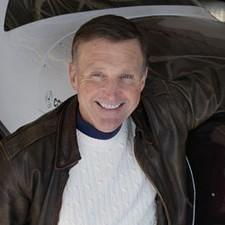 Michael Phillips
Michael Phillips, CFI, CFII, ASMEL, Glider. He is the Managing Partner and Chief Flight Instructor at Aviation Instruction Simulator Training, Chief Flight Instructor for the Cessna Advanced Aircraft Recurrent Training Program (CAART) and a charter member of the Society of Aviation and Flight Educators (SAFE).
Michael is a seasoned teaching professional with a passion for aviation and all phases of flight instruction. He has a diverse background which provides him with the ability to work with a wide variety of personalities and backgrounds. He has been a Certified Flight Instructor since 1975. He has had an opportunity to fly and teach in a number of regions of the country which provides him with an understanding and appreciation for weather and challenges that other parts of the United States offer to pilots.
A Certified Flight Instructor for thirty-five years he is a Master Instructor and an FAA Gold Seal Instructor with 8,600 total hours and over 6,500 hours of dual given.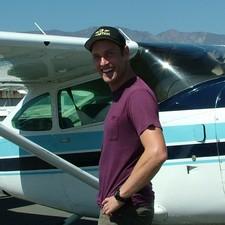 Jason Gilbert
Jason Gilbert grew up in Lock Haven, PA flying with his dad in anything from Piper Super Cubs to Cessna 441's. En route to his employment at CP Aviation, Jason studied drums at Berklee College of Music, received a bachelors degree in marketing and advertising at Emerson College, learned how to build guitars at the Galloup School of Lutherie, and, lastly but most importantly, earned his CFI at CP Aviation. If not playing music or working, you'll find Jason in the air with his family in a Cessna 180 or whipping around solo in a Pitts S-1.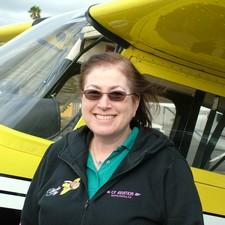 Rochelle Oslick
Rochelle Oslick, CFI, began flying in 1984, at the Edwards AFB Flying Club, while she was stationed there as a USAF Flight Test Engineer. Shortly after earning her private pilot license, Rochelle started flying tailwheel/aerobatic airplanes at Santa Paula Airport, which quickly became her favorite airport. As an aerospace engineer, several job changes, from the USAF, to Lockheed in Burbank, to Douglas Aircraft Company in Long Beach, and finally to The Boeing Company in Seattle, led her to base her flying from other airports in southern California and in western Washington. Along the way, Rochelle earned her Instrument and Commercial ratings, and then CFI, and started flight instructing part-time, mostly in tailwheel and aerobatic airplanes, in the Seattle area. After retiring from Boeing, Rochelle moved back south, to Ventura County, and is flight instructing at CP Aviation, at her favorite airport, teaching Private Pilots, Tailwheel, Spins, Emergency Maneuver Training, and Aerobatics. She also participates in aerobatic competitions, flying her Christen Eagle II in Intermediate category. She is a member of SAFE, IAC, Ninety-nines International Organization of Women Pilots, Women in Aviation International, and AOPA.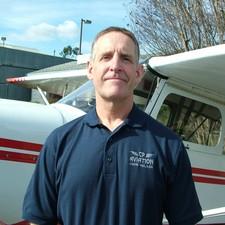 Bryan Hudson
Bryan Hudson - ATP, CFII, MEII, Tailwheel - is a lifelong aviation enthusiast. He started flying in hang gliders as a teenager then moved up to the "heavy" Cessna 152 when he earned his private pilot certificate in 1987. Bryan began flying professionally in 1990, primarily working in scheduled air cargo operations all across the country where he accumulated many hours of night, multiengine, turboprop, and instrument experience, and his Airline Transport Pilot certificate. In 2004 he began working in the emerging unmanned aircraft industry as evaluation pilot, instructor, and systems engineer. Bryan has been a CFI with single and multiengine instrument instructor ratings since 1991 and is a member of the Society of Aviation and Flight Educators (SAFE). Bryan is available mainly on weekends and some evenings when the days are long.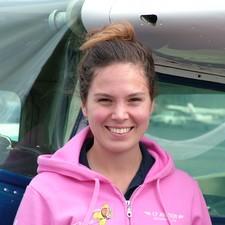 Aravni Khachikians
Aravni Khachikians, certified flight instructor, grew up in Berkeley CA. Her first experience on an airplane was an airline flight during a family vacation. This sparked an interest in flying which led her to explore and learn about the world of aviation. She started taking flying lessons in high school, and continued her flight training when she moved to the Santa Barbara area to attend the University of California, Santa Barbara. She completed her Private Pilot and Commercial certificate, as well as her Instrument rating at the Santa Barbara airport, and later her CFI certificate at CP Aviation. Aravni is most fascinated by the learning process in aviation, and enjoys continuously learning new things herself.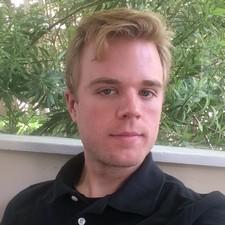 Charlie Steiger
Charles (Charlie) began flying out of CP Aviation in 2012. Working avidly in training and school, he obtained all of his certificates and ratings while at CP from Private through CFI. He began instructing in 2014 and followed in obtaining his CFII in 2015. He enjoys all aspects of flying and the continued challenges it brings.<?p>
Always learning and expanding his knowledge, he continues this outside of flying as he works towards obtaining his BS in biology.
When not flying he can be found pursing one of his other passions such as jamming in his band or hydroponic/aquaponic gardening.